Trump post-election adviser Bossie 'positive for Covid'
The adviser overseeing President Donald Trump's challenges to his election defeat has been infected with Covid-19, sources have told US media.
David Bossie reportedly tested positive on Sunday during a White House visit.
The news came hours after Housing Secretary Ben Carson was revealed by US media to have tested positive.
President Trump continues to question the projected victory of Democrat Joe Biden, firing off more tweets on Monday on the legal challenges he is backing.
Dozens of people with connections to the White House have now tested positive for coronavirus.
The infection of a number of them, including the president himself and the first lady, followed an event on 26 September at the White House's Rose Garden.
Infections in the US have now passed 10 million, with more than 237,000 deaths, Johns Hopkins University research shows.
Mr Biden's victory was declared last Saturday, but remains a projected result, with some counting continuing.
Who is David Bossie?
Mr Bossie, 55, has been a combative political figure for decades and a staunch defender of the president.
Although he is not a lawyer, those qualities led to him being picked by Trump campaign manager, Bill Stepien, to spearhead the post-election legal battles.
They will target key states where the results were, or still are, close.
Mr Trump has made widespread allegations of fraud for which no evidence has yet been presented.
On Monday he spoke of a "cesspool of fake votes" in Nevada and "unthinkable and illegal" actions in Pennsylvania.
One source told NBC News that due to the diagnosis, Mr Bossie was "no longer a part of the decision-making process".
However, neither Mr Bossie – Mr Trump's deputy campaign manager in 2016 – nor the White House have commented directly on the issue.
Who else has tested positive?
Housing and Urban Development Secretary Ben Carson's positive test was reported by various US media outlets on Monday.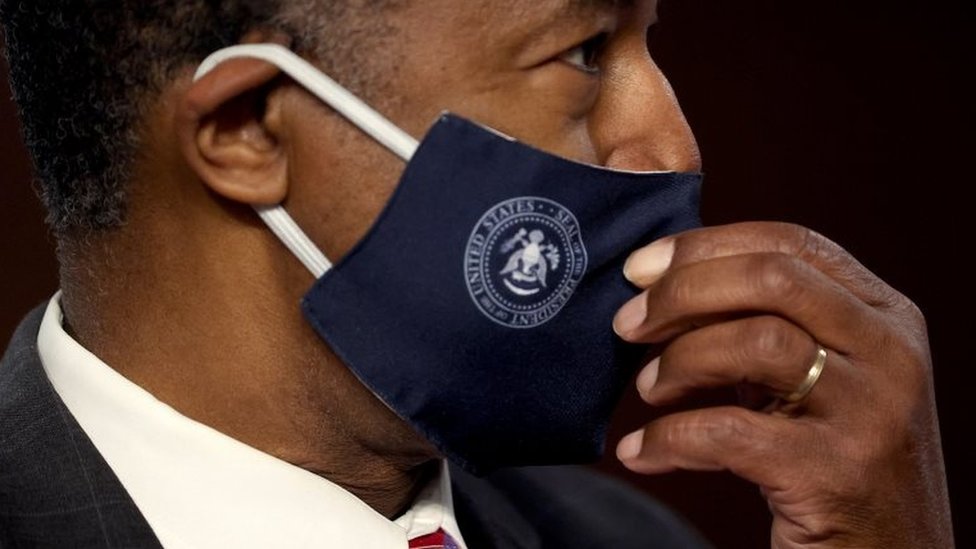 ABC News said Mr Carson had been treated at Walter Reed Medical Center in Washington DC but was not admitted as a patient, unlike Mr Trump, who spent three days being treated there in early October.
ABC quoted a Carson aide as saying the secretary was "in good spirits and feels fortunate to have access to effective therapeutics which aid and markedly speed his recovery".
Mr Carson was reportedly at a top election night event at the White House on Tuesday.
Last Friday, US media reported White House Chief of Staff Mark Meadows had tested positive.
He joined a whole host of presidential aides, colleagues and White House staff – including Mr Stepien, ex-presidential adviser Kellyanne Conway, press secretary Kayleigh McEnany and former New Jersey Governor Chris Christie – who have tested positive since early October.